Donald Trump was correct.
Two Michigan Cities Plan To Celebrate "Ramadan Unity Dinner" on 9/11
This despite the fact that Ramadan took place on June 17 this year.
In other words, this is just an outright statement of Islamic Supremacy. It's meant to be an insult. It's meant to be utterly offensive. It is meant to humiliate and denigrate infidels.
And, of course, we won't do shit about it. Especially those of us who call ourselves "Christians".
The Democratic mayors of two Michigan cities plan to celebrate September 11th this year by honoring Sharia and hosting their "9th Annual Ramadan Unity Dinner."
Ramadan ended in July, but the Islamic Society of Greater Lansing has scheduled its dinner at the city-owned convention center on the very day when 19 Muslim terrorists killed 2,977 innocent victims at the World Trade Center, the Pentagon, and three crashed airliners, 14 years ago.
In an almost unbelievable act of callousness and dishonor of those victims, Mayors Virg Bernero and Nathan Triplett of Lansing and East Lansing, respectively, will host a dinner themed "Hope, Not Hunger."
The event's poster features an Islamic crescent and a skyline of mosque-styled buildings.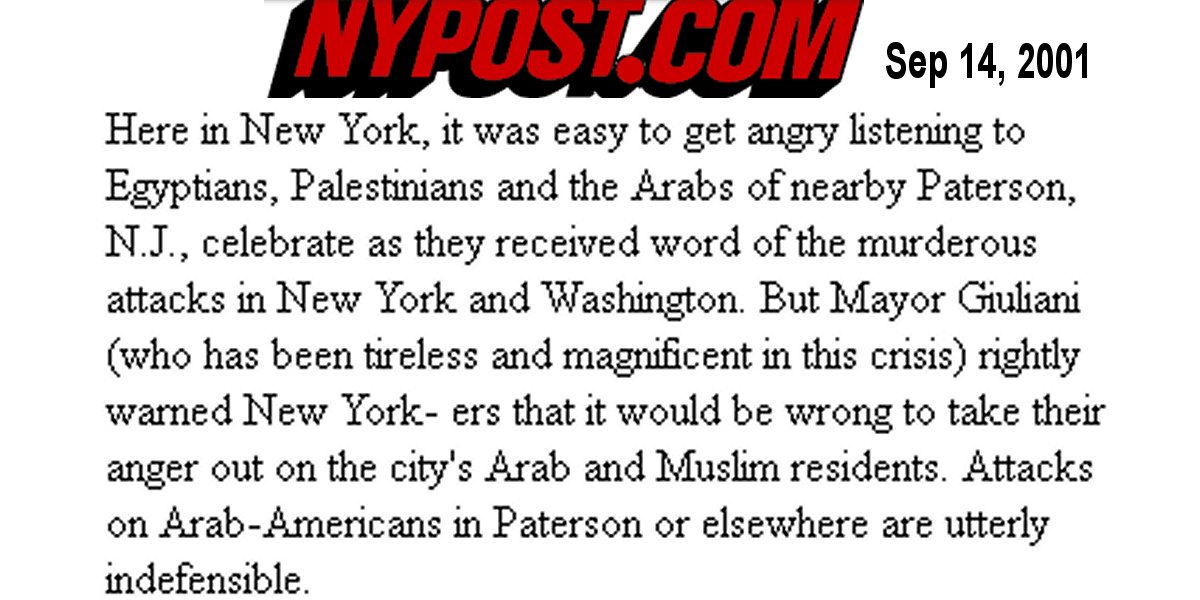 Paterson is host to one of the largest Palestinian communities in the United States … "South Paterson is a major piece of Palestine," said Sayegh, who represents the city's heavily Arabic 6th Ward. Indeed, it is known as "little Ramallah" where a Palestinian Muslim and a convicted felon was able to convince the ignorant, traitorous, Sharia compliant public officials dhimmis to raise the terrorist Hamas Palestinian flag at Paterson City Hall.
Muslim savages in America, notably in New York and New Jersey, celebrate on September 11, 2001 when 2,997 American civilian kuffar died in the Muslim terrorist attack.
<Muslims jubilantly celebrated on September 11 in New Jersey-CBS News. As usual, Donald Trump is vindicated from the pathetic taqiyya / kitman, Muslim lies & deceptions, by bloodthirsty Muzzies, and the accusative barbs from the shameless, dishonest, corrupted mainstream media.
Apparently, many of these Muzzy terrorists knew in advance of the attack, hence their sitting, waiting on the roofs, watching the twin towers with binoculars across the Hudson River for the moments of impact and the aftermath of what turned out to be the most devastated attack against America homeland in U.S. history (surpassing Pearl Harbor in 1941) in which nearly 3,000 civilians perished and immediately pushed the country into recession
The Chattanooga shooter Muhammad Youssef Abdulazeez terrorist Muzzy scum was from a Palestinian Muslim family>
Muslim savages in America, notably in New York and New Jersey, celebrate on September 11, 2001 when 2,997 American civilian kuffar died in the Muslim terrorist attack.
I live in the NYC area and #trumpisright Muslims did celebrate. Was tense going 2 gas station due 2 their empathy Bin Laden @realDonaldTrump

— Quinn (@Quinnrob76) November 24, 2015
@KimLaCapria @snopes I'm sure @DebbieSchlussel must have more articles. We all remember the news showing it. It was disturbing. — Alysia Stern (@AlysiaStern) November 23, 2015
@AlysiaStern @KimLaCapria @snopes I remember seeing that news clip of cheering Muslims too, b/c having grown up in NJ, I was horrified.

— fubaglady (@fubaglady) November 24, 2015
@AlysiaStern @KimLaCapria @snopes Easy to see how reports combined domestic & foreign celebrations. Whether 1000s or 100s, #trumpisright — Lee Thomas Walker (@TgGRA) November 26, 2015
@AlysiaStern @KimLaCapria @snopes I saw videos on FOX / CNN etc. of Palestinians (Israel's foreign squatters) celebrating wildly!

— Chuck Koontz (@freedomace) November 26, 2015
@AlysiaStern @KimLaCapria @snopes #trumpisright A friend lives near a mosque in Brooklyn and she saw the same thing. — Fun and Games (@barb0321) November 26, 2015
@AlysiaStern @KimLaCapria @snopes I remember the news clips. This is when I was convinced Muslims were Evil.

— Chris Lee (@ChrisLe25270632) November 26, 2015
@AlysiaStern@KimLaCapria@snopes they were seen celebrating in Bay Ridge Brooklyn too on 9/11

— Peter G (@PeterGotis) November 24, 2015
As reported by their own staff Serge F. Kovaleski and Fredrick Kunkle, Sep 18, 2001, one week after the attack …
In Jersey City, within hours of two jetliners' plowing into the World Trade Center, law enforcement authorities detained and questioned a number of people who were allegedly seen celebrating the attacks and holding tailgate-style parties on rooftops while they watched the devastation on the other side of the river.
Bloodthirsty Palestinian Muslim savages jubilantly celebrate 9/11 attack that killed nearly 3,000 civilians.
Muslim kids ceremoniously behead & slaughter stuffed animals, with fake blood. Parents cheer.
<How wonderful! They start out slaughtering stuffed animals with fake blood, then get promoted to butchering real animals, before graduating with beheading humans, with real blood, of course>

Palestinian Muslim preschool kid brainwashed by bloodthirsty Palestinian parents: "I want to stab a Jew".
Daily Palestinian children TV program incites Muslim preschool kids to murder Jews.
Muslim kids play beheading Christians in Turkey, a so-called "moderate" Islamic country and a member of NATO.
It's not just in Muslim countries, bloodthirsty Palestinian Muslim witch in USA defends & calls for stabbing of Jews, thanks to Muslim Brotherhood Member Emeritus Hussein Obama's support & nurturing of jihadists.

Obnoxious Palestinian Muslim young bitch shows no respect for Israeli law enforcement.
Palestinian Muslim cleric preaches jihad & ISIS future conquests of Rome, Paris, Washington D.C.
Palestinian Muslim mother of patient jeers Israeli doctors for believing that life is precious.
Brainwashed, bloodthirsty Palestinian Muslim kid feels happy over news of Jews being stabbed.
Bloodthirsty Muslim Palestinian terrorists' stabbing spree. Israel. Nov 2015-Feb, 2016.
<2 Americans, including a graduate student, Taylor Allen Force, and 34 Israeli citizens have been murdered by these animals in just 4 months.>

References:
1. http://freedompost.org/muslim/invasion/hussein-obamas-syrian-widows-and-orphans.html
2. http://freedompost.org/muslim/infiltration/barack-hussein-obama-the-muslim-in-chief.html
3. http://freedompost.org/traitor/justin-trudeau-another-muslim-useful-idiot.html
4. http://freedompost.org/traitor/bill-shorten-another-traitor-and-muslim-useful-idiot.html
5. http://freedompost.org/islam/deception/civilization-jihad-aka-stealth-jihad.html
6. http://freedompost.org/islam/immigration/muslim-immigration-hijrah-and-politics.html
7. http://freedompost.org/terrorism/muslim-terrorism-worldwide-2015.html
8. http://freedompost.org/islam/deception/islamophobia-is-an-oxymoron.html
9. http://freedompost.org/islam/deception/muslim-race-card.html
10. http://freedompost.org/muslim/infiltration/cair-exposed.html
11. http://freedompost.org/terrorism/u-s/muslim-brotherhood-terrorist-designation-act-of-2015.html