1. Martin J. Walsh-another Muslim useful idiot dhimmi

Speaking at the Boston Islamic Cultural Center, the very same mosque that the Boston Bombers Tsarnaev brothers attended regularly before committed their terrorist act …
It was a coincidence that Mayor Martin J. Walsh picked Friday to fulfill a promise to attend a prayer service at New England's largest mosque, but the symbolism of the timing was not lost on the mayor or the thousand worshipers seated elbow-to-elbow on the carpeting.

With coordinated anti-Islam rallies planned elsewhere this weekend <anything anti-Islam is for good reasons>, Walsh joined leaders of the Islamic Society of Boston Cultural Center in distancing Boston from the so-called Global Rally for Humanity.

"There's a lot of demonstrations going on around the world and in the United States, but it is important for all of you to understand that your city supports you," Walsh said, as applause filled the sunlit sanctuary. <not really! The Boston Bombing victims, American patriots, and non-traitors would disagree>

A call came up in Arabic from a corner of the room: "Takbir!" — Arabic for "praise God."

"Allahu Akbar!" the crowd replied. "God is greatest." <Any demonic entity that advocates killing, raping, sodomy, slavery, pedophilia is Satan or a false God, not a true God! Aloha Snackbar!>

"We in Boston stand together," <too bad Jeff Bauman, Rebekah Gregory, Heather Abbott, Adrianne Haslet-Davis, Celeste Corcoran, Erika Brannock, Marc Fucarile, Paul Norden, J.P. Norden, and many other amputees victimized by the Muslim terrorists in the Boston Bombings can't, even literally, not with the enemy nor the traitor>said Walsh, clad in a suit, tie, and navy-and-turquoise dress socks, his cap-toe dress shoes respectfully stashed in the corner.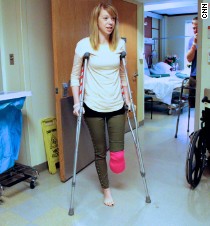 Americans victimized by Muslim terrorists in the Boston Bombings.
He had visited as a candidate in 2013, participating in a forum organized by the Greater Boston Interfaith Organization, and met the new imam, Shaykh Yasir F. Fahmy, at a recent at a recent school opening. When Walsh's senior public safety adviser, Daniel Mulhern, addressed the congregation a few months ago, he promised he would return with the mayor soon. <busy selling your soul and morals to the devils for Muzzy votes eh, brainwashed Walsh?>

He also addressed the Islamophobic rallies <'Islamophobia' is an oxymoron>. "I look at these people and I feel bad for them, because they're ignorant. They have an idea of Islam that is misinformed," <yeah, right. Filthy Muzzies lie but the numbers do not> he said. "The duty of the Muslim community is to really become the prophetic, merciful presence in society." <LOL! How about just becoming less subhuman? That might just do!>

When Walsh stepped forward, he greeted the congregants with "As-salaam Alaikim" — "peace to you" <LOL!>

              Walsh selfied with another one of those seemingly ubiquitous Muzzy cows!

Walsh said it was his first Islamic prayer service but that it reminded him of the Catholic Mass he attended regularly with his mother as a child, and he spoke of the importance of interfaith understanding. "Boston is really a city that's been built on diversity<probably not for long, as only Muzzies are left there and most non-Muslims would leave if Libtards continue the trend>," he said.

Abdulai Wanu, a 26-year-old security guard with dreams of becoming a pilot <to land or not to land? That the question, alright! Just don't miss the White House this time now that Hussein Obama lives there>, stood in front of the pack, raising his phone to capture not just the mayor and himself but the entire fulsome scene.

Eventually, Walsh reached the wall of shoes, then banked toward the door. As the mayor's retinue tried to usher him to his SUV, he paused for one more selfie <yep, can't forget the PR fluffs and media stunts, important parts of whoring for Muzzy votes> with curly haired Rayan Haoud, a 7-year-old student at the center's Islamic elementary school, and then another with Rayan's mother, Laila Alaoui.

"It's a big thing that he's here," said Alaoui, a Morocco native who lives in Watertown, as Walsh headed out. "It's a really powerful statement for Boston." <from and for traitors, maybe!>
Martin J. Walsh, along with 17 other treasonous and corrupted mayors, just petitioned Hussein Obama to flood U.S. cities with more Muzzy savages disguised as immigrants.
2. References
1. http://freedompost.org/islam/deception/facts-many-syrian-refugees-are-isis-sympathizers.html
2. http://freedompost.org/muslim/invasion/hussein-obamas-syrian-widows-and-orphans.html
3. http://freedompost.org/muslim/infiltration/barack-hussein-obama-the-muslim-in-chief.html
4. http://freedompost.org/traitor/justin-trudeau-another-muslim-useful-idiot.html
5. http://freedompost.org/traitor/bill-shorten-another-traitor-and-muslim-useful-idiot.html
6. http://freedompost.org/islam/deception/civilization-jihad-aka-stealth-jihad.html
7. http://freedompost.org/islam/immigration/muslim-immigration-hijrah-and-politics.html
8. http://freedompost.org/terrorism/muslim-terrorism-worldwide-2015.html
9. http://freedompost.org/islam/deception/islamophobia-is-an-oxymoron.html
10. http://freedompost.org/islam/deception/muslim-race-card.html
11. http://freedompost.org/muslim/infiltration/cair-exposed.html
12. http://freedompost.org/terrorism/u-s/muslim-brotherhood-terrorist-designation-act-of-2015.html